A small town that thrives on the LBGTQ community
Provincetown is one of the most unique towns in the US. Residing on the very tip of Cape Cod's boot, Ptown is relatively quiet during it's winter hibernation. Come summertime, people from all over the world come here to work and play. Amazing LGBTQ events take place every week. We love Ptown, and if you have never been take a trip here! We're sure you'll love it too.
Any One of the Amazing Women's Weeks and Parties Throughout the Summer
The summer season starts in May and kicks off with our Memorial Day Weekend extravaganza, followed by Women Of Color Weekend (June),  Girl Splash Weekend (July),  and Women's Week closes out the season in October. For the boys the season starts in March, and the Crown and Anchor boasts the largest venue and hosts many major events including their Independence 2016 Week-Long Celebration. Bear Weekend in July in another well known week in Provincetown. To round out the year, other majors events include Carnival Weekend, Provincetown Portuguese Festival, Provincetown Jazz Festival, and the Provincetown International Film Festival.
Some of the Best Seafood You Will Ever Eat
This coastal town features some of the best fresh seafood you can find. From classic fish and chips to exotic salmon dishes, you can't go wrong with most places. Tourist favorites like The Lobster Pot to pier side dining like 9 Ryder Seaside Dining and Commercial St places like The Waterford can cover your bases. If seafood isn't your thing, don't worry. The restaurants in the area have all types of cuisine covered – from pizza shops and burger joints, to delectable filet mignon at The Central House (featuring celebrity chef Michele Ragussis). A comprehensive list can be found at Provincetown Tourism.
Oysters Oysters Oysters
OMG if you love oyster head to Provincetown. If you don't love oysters try them in Ptown. Some of our favorite places are Squealing Pig and the Canteen, but those are not the only places to get your oyster fix.

Beautiful Sandy Beaches and Sand Dunes for Days
Part of the Cape Cod National Seashore Ptown is great for, *ahem*, long walks and sun bathing. Provincetown has stretches of great beaches along with a few in neighboring towns. The sand dunes are quite gorgeous, and constantly change. It's one of natures temporary beauties. Herring Cove and Race Point are among the more popular areas. There are bike rentals and even some beach chair/umbrella rentals if you forgot yours.  (Provincetown Tourism's List of Beaches and Rentals'')
Beach and Water Activities
The reason you go to the shore is also to enjoy the water. There are plenty of things to do seaside including boating (rentals available) and kayaking/paddling boarding. There are also whale watching trips and other boat cruises from the pier (including our Freedom Boat Cruise during Memorial Day Weekend)

Gay People Everywhere
You won't be the minority here. The LBGTQ community isn't just the clientele, it's in the town itself. Lots of the businesses here are LTBGQ owned and it extends into the town government and Provincetown Business Guild.
Shop 'Till You Drop
There is very little here in the way of generic mall stores. There are a lot of local shops that cover a variety of goods, from kitschy tourist souvenirs to one of a kind artworks and high end home/fashion accessories. (Provincetown Tourism's List of Shops)
Gay Celebs
Gay celebs from all over have performed and vacationed here. We've seen the cast of the L-Word and Orange Is The New Black make appearances and even perform. Walk up and down the street and you're bound to stroll by someone you know.
Over 60 Art Galleries and Centers
Areas like Provincetown can't encourage the diversity they do without also having a thriving art scene. There are plenty of galleries displaying and selling photographs, paintings, and sculptures. It also supports the performing arts with plays and shows, and has hosted many comedians throughout the decades. A good list can be found on the Provincetown Tourism site or a interactive guide at Provincetown Gallery Guide Online.

Cozy Little Inns with that Cape Cod Charm
Provincetown works hard to maintain it's quaintness – and one of the best things is the variety of cozy inns, cottages, and hotels. There is a lot of history in the buildings, and all have their own unique charm and is indicative of the area, the buildings, and their wonderful owners.  For a list of Women owned and operated places visit the Women's Inn Keepers. If you would rather have a more traditional hotel, there are plenty of options as well like our Memorial Day Weekend host venue the Crown and Anchor. (Provincetown Tourism's List of Accommodations)
You Can Camp Near the Beach
If you would rather make nature your home (temporally) you  can also camp on the near the beaches in Provincetown. Dune's Edge Campground and Coastal Acres offers you that opportunity. Reservations can be made online or over the phone.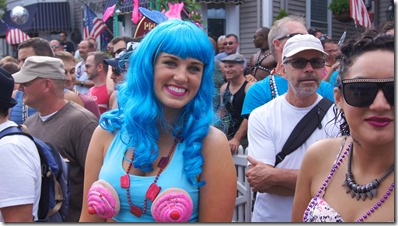 Express Yourself Freely
Provincetown allows you to express yourself freely – and what we mean is not only your style, fashion, personality, or costume. We mean that you can be comfortable in who you are hear. There's no need to hide who you are or who makes you happy in Provincetown. However, if you are looking to let loose a little – there are plenty of events and venues during the summer that will celebrate it.
That a quick look at Provincetown in the summer. Really, it was! There's a lot to do and see, and it's one of the most charming places  in the world to visit. That's one of the reason we host events during Memorial Day Weekend.